Our leadership is led by our Lead Pastor and assisted by our Board of Elders and Church Leadership Team. Together, they recognize the authority of God, and realize that we are shepherds who serve under the Chief Shepherd, Jesus Christ. Our Board of Elders is comprised of six Elders, or overseers. The Church Leadership Team is appointed by the Elders to oversee a specific area of ministry as well as a team of people working in that ministry. Together their mission is to "equip the believers for the work of the ministry" and lead us in accomplishing our mission to Love God, Love people, and Serve the World.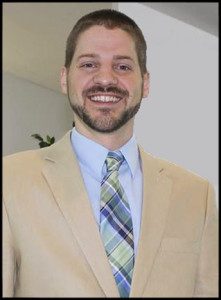 Jason Cole, Worship & Media Pastor
Jason Cole came to Rock Crusher Road Church of God in 2012. Jason felt the call to music ministry in high school  and attended Warner Southern College where he graduated in 2003 with a Bachelor's Degree in Music Ministry with a minor in Business Administration. Currently, Jason is a bi-vocational Pastor where he works full time as Quality Assurance Engineer at Insight Enterprise.  Jason is an Ordained Minister with the 
Church of God, Anderson.
Dale Benefield, LMHC – Senior Adult Ministries Pastor & Solid Rock Counseling
After retiring from the Department of Children and Families for the State of Florida, Dale began a private counseling service with an office here at Rock Crusher Church. Dale is a Licensed Mental Health Counselor in the state of Florida and brings years of experience to a variety of needs. Dale also serves as the staff pastor overseeing our Senior Adult Ministries (55+).  If you would like more information on the services available through Solid Rock Counseling, please contact Dale either by phone: 352-601-1139 or by email: dale@stage.rockcrusherchurch.com.
Jo Ann Barkman – Ministry Assistant
Jo Ann Barkman came to Rock Crusher Church in the spring of 2017 after moving to Florida. She was born and raised in Michigan and worked as an Administrative Assistant in the Church of God for 22 years before retiring. Jo Ann felt the Lord was calling her and had work for her to do in Central Florida but didn't know what it was until she visited Rock Crusher Road Church of God. She has a heart for local outreach/ missions and for our church to grow and help people learn about the love that Jesus has for them. Jo Ann is married and has 3 children, lots of grandchildren, and enjoys the Florida sunshine and warm weather.
Missionaries
We support five Church of God Career Missionary Families. They are listed below. We also support three other Missionary Families that are serving in sensitive areas, therefore their information is not made public.
Ernie & Lori Nicholas – Kenya
Lori serves as a campus nurse at KIST (Kima International School of Theology), and Ernie teaches and assists with work camps.
Zach & Audrey Langford – England
Zach and Audrey will be catalytic partners with the Church of God Birkenhead with emphasis on the youth program. They will work with the Three-World team, laying a foundation for church planting in Europe.
Mike & Heather Webb – Regional Coordinators in Africa
Mike and Heather work with missionaries and national leaders and assist with ministry vision and strategy for specific countries in the region. They reside in Tanzania.  Mike and Heather served for two years with Global Missions in Southeast Asia as educators at an international Christian school. The Webbs also served for five years in Tanzania, where they worked as administrators for a Church of God tailoring school and revitalized the Theological Education by Extension (TEE) program for the Church of God.
Paul & Kattia Jones – Bolivia
Paul and Kattia serve the church in Bolivia through  leadership development. Paul prepares lay leaders for biblical and ministerial service. Kattia serves the church through ministries for women, youth and children.
Jon & Karen Lambert – Ecuador
Jon and Karen serve the church in Ecuador in leadership development. Karen also serves as national director for Children of Promise.